PDC is a digital agency that has been trading since 1999 & generates revenue by developing bespoke marketing websites & digital platforms.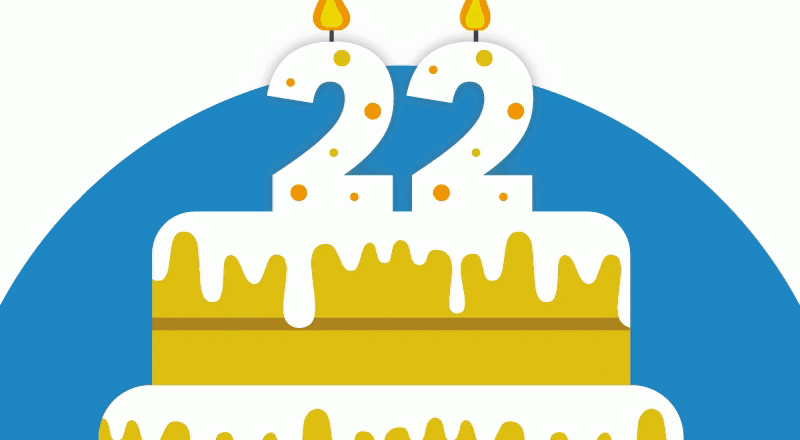 With more than 20 years of experience in the digital world, our passion drives us to build online experiences that have maximum impact and relevance, enabling customers to make real connections with their audience.
We are 'technology-driven' and 'relationship oriented'. We love to build strong ongoing relationships with our customers and their companies.
PDC was founded on 7 April, 1999. In those early days we were focussed on providing web sites and web knowledge to local companies. Some of our early customers, like the Lingerie Company, are still with us 20 years later.
The stimulus of working with lots of interesting companies on a variety of industry sectors was really gratifying, spanning everything from balloon rides to bespoke floor coverings.
Early on, we provided training in Business Development for what is now Birmingham City University, and the Fachhochschule (technical university) Braunschweig Wolfenbüttel in Germany.
In those days Altavista and Yahoo! were the main search engines. Before Google, choice of keywords, good keyword placement and keyword meta-tags were all important. Google gradually grew in popularity and began to dominate the process of search engine optimisation by 2005.
Google introduced the concept of 'Content is King', and aimed to give the searching customer what they were looking for. This meant that Google connected the customer with the most valuable web site.
Facebook and other social media were becoming very popular by 2010 and formed part of a strong Internet marketing strategy. At this time, we were training companies in Internet Marketing and Social Media and this led to many fruitful relationships.
A battery of SEO measurement and optimisation tools became available. The MOZ SEO suite started in 2004, Google Analytics started in 2005, Hubspot in 2006 and SEMRush in 2008.
Creating attractive web sites and social media pages for customers, we have been using these tools to provide SEO and content development to small and large (national) companies ever since to achieve very high visitor numbers and remarkable conversion rates.
We have created valuable content around such diverse topics as:
Cyber security
IT in education
Damp proofing and rising damp
Hospital, library and business removals
Low carbon vehicles 
Web Portal Administration Suite
PDC designed a set of bespoke, specialised software products (web portal, members' area, CRM, e-commerce, document repository, collaborative workspace, document review area, meeting organiser, SEO, etc.) to meet evolving client requirements.
This capability allows us to build long-term relationships with clients by providing a comprehensive suite of front-end and back-end digital solutions.
In 2000 we implemented a web portal and members area for the British Technical Council, now known as The BTC Testing Advisory Group, which serves the motor and petroleum industries. BTC is still a customer with us today.
In 2001 we provided a portal and members area for CEC, the Coordinating European Council, developing performance tests for fuels, lubricants and additives for the automotive and petroleum industries.  This portal serves many companies from Texas to Japan and all over Europe.
We have since developed members areas for many associations and research organisations. Most of our contacts at CEC and BTC are large companies, and we are very comfortable working in this environment.
The size and significance of our customers is important to the reputation of a growing company like PDC. A contact made at CEC led to a project for BP, one of the largest companies in the world. We had to create our design solutions in line with BP's design guidelines.
Then, in 2008, we were asked to take on the CEC Test Monitoring System (TMS). This online system monitors several rig and engine database CEC tests. This makes it easy to capture and analyse real-time reference test data and is key to maintaining test quality.
Members can display, analyse and compare reference test results in graphic format across all key test parameters, making this a powerful tool for monitoring test quality against ISO 17025 and spotting data trends.
The techniques and facilities that we had developed with CEC and others enabled us to make a bid for the SMMT Foresight Vehicle project. Foresight Vehicle at the time was the UK's prime knowledge transfer network for the automotive industry, administered by PDC for SMMT
The Foresight Vehicle R&D programme aimed to promote technology and stimulate suppliers to develop market driven enabling technologies for future motor vehicles (cars, taxis, HGV's, buses and light commercial vans).
PDC then became involved with the Centres of Excellence for Transport Telematics and Low Carbon and Fuel Cell Technologies (Cenex). The latter is still highly productive in this field.
We assist Cenex in organising the UK's largest Low Carbon Vehicle (LCV) event, providing an ideal platform for UK capabilities to showcase and engage with informers to discuss emerging technologies, industry issues and what the future holds.
PDC was involved with the relevant Knowledge Transfer Networks KTNs, and at one time we were moderating the Low Carbon KTN. Also, we have provided an online platform for many research and technology demonstration projects and also managed the funding and approval process.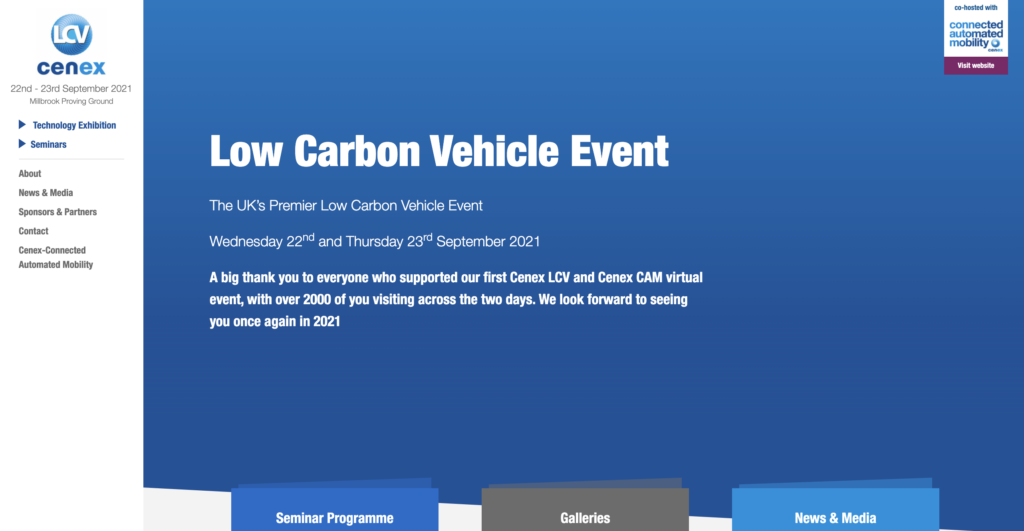 In the early years we established how to design attractive and effective web sites, getting the visitor to the sales proposition within two clicks, and making it easy for customer then to respond.
Selling commercial vehicles for Lex Group/ RAC was a significant exercise. For Finning CAT we were selling a variety of used heavy equipment like excavators, dozers and backhoes and wheel loaders in four languages, using database lookup tables
In addition to our own excellent design capabilities, we have provided a technical service to design houses, to realise their original designs and layouts as web pages. We have worked with several design houses in London, and as far as Australia. We've also worked in Japan and China on low carbon web sites, albeit without leaving Market Bosworth.
Our first printed documents were the Foresight Vehicle Technology Road Maps, from 2004 on. We expanded our design for print capability to include conference volumes for  Low Carbon Vehicles and Future Powertrains, among others. And, in due course, we have designed vehicle liveries and exhibition stands. 
In the lockdown, many of the conferences and exhibitions that PDC usually support could not go ahead onsite. PDC developed a solution for an online event, in a new novel format with themed sessions scheduled across multiple days. This was not just a webinar but a conference with chairperson, speakers and Q&A sessions. Members were invited to make a company capabilities pitch, followed by facilitated networking which helped members make valuable new business contacts.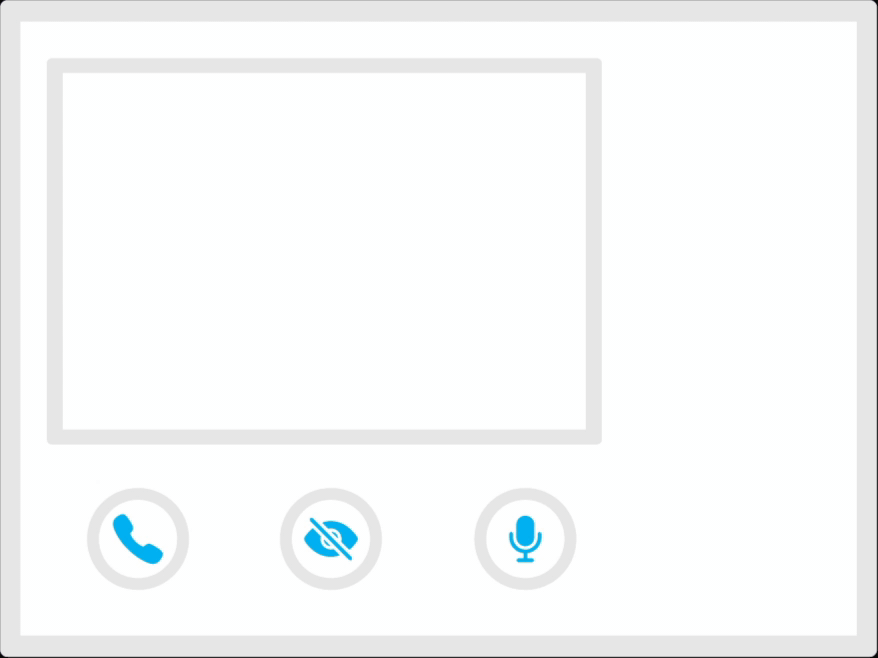 After 22 years, PDC is still technology-driven and people-oriented. We continue to renew and develop our products, and to respond to market opportunities. We have relationships with customers in a spread of industry sectors. Many of our customers are friends, and many of our friends are customers.